A Week of Climate Action Starts On November 1!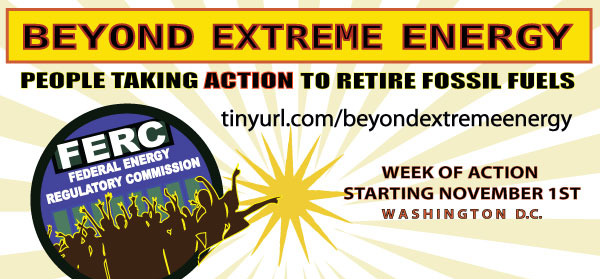 Popular Resistance is driving escalated climate action by calling for a week of demonstrations in Washington, D.C., and elsewhere around the country, starting on November 1.
Like  Naomi Klein's recent, trailblazing book, This Changes Everything: Capitalism vs. The Climate, Popular Resistance says the time for being tentative, simultaneously tapping the break and hitting the accelerator, is over. We are now speeding towards a climate catastrophe.
The November action targets the Federal Energy Regulatory Commission (FERC), an independent agency whose powers were expanded by the government with the Energy Policy Act of 2005. Before you get involved, update yourself on what the FERC actually does, such as licensing and inspecting (regulating) private, municipal, and state energy projects; and, what it does not do, like interfere with anything addressed through through other agencies, such as State Public Utility Commissions and the Nuclear Regulatory Commission.
Nevertheless, FERC is an example of failed government policies because behind all their choices and decisions is a bank of corporate private energy interests, making FERC an excellent media symbol of everything that is wrong with how the U.S. and other countries are dealing with the urgency of climate change. FERC website's crafty disclaimers aside, this commission's power in representing special interests exposes in full the major impediment to the social changes that will be needed to meet the challenges of climate change. Simply put, greedy corporations are ruining our planet and must be stopped.
The planet's life-threatening challenges have already exceeded predictions by shrinking our timeline, cutting it in half to one third of the time we originally believed. We have less time to actually be able to do something. That is why activists across the spectrum of causes have to also be doing something to protect our environment, the air we breathe, the water we drink, the shorelines we stand on. If not, ending racism and sexual oppression, ending war, solving immigration, equality, economic justice, etc., will never be realized. We will continue to make gains in all these areas but what if life ceases to exist in less than 50 years? Think about and let it chill you.
The well-written demands are attached below, and you can go to the Popular Resistance website for more information on how to get involved in the non-violent civil actions planned for this first week in November, in D.C., or in your own community. (Click here for the Schedule and Logistics, including how you can stay overnight in DC for $5/day.) By working together in larger and larger numbers can we can suppress all the greed-driven special interests, and wield the power we hold in our hands. Please don't stand still.
WE call on our government to drop its "all of the above" energy strategy. Extreme energy extraction — fracking, tar sands, deep ocean drilling, Arctic drilling, and surface mining and undermining practices such as mountaintop removal and longwall coal mining — of the last fossil fuels condemns us to ravaged landscapes, poisoned water, and weather convulsions. And it ensures catastrophic global warming for future generations.

WE call on FERC to make decisions based on the well-being of current and future generations and the protection of our shared natural resources. Rubber stamping industry pipelines, compressor stations and export facilities contaminates the air, water, land and climate that support all life on Earth. Specifically, we call on FERC to reject the proposal to build a dangerous gas export facility at Cove Point and to place a moratorium on approvals of other export facilities.

WE can no longer allow our government to segment gas projects from all others, thereby hiding the full danger. We must look at the whole picture, evaluating what is happening downstream and upstream. Each export terminal creates hazards not only for the local community, but for communities where the shale gas will be extracted, for communities where pipelines and compressor stations are built to transport the gas, and for communities receiving the exported gas. We must also measure the release of climate-disrupting methane and other greenhouse gases during this whole process, from extraction, transport, export, and eventual burning in faraway communities.

WE call on the Obama administration and FERC to recognize the unfolding disaster guaranteed by fueling our economy from the last dregs of fossil fuels.

Nothing less will protect our communities, the climate and the Earth.
THE ACTION: During the week beginning November 1, our coalition will take to the streets of Washington to make these goals a reality
CLICK HERE TO JOIN THE BEYOND EXTREME ENERGY ACTION
#####
See also: Response to Climate Change Impossible Without a Revolution in Thinking, and more, here, here, and here.