Supreme Court: Don't F#ck it up
Congressional Clarity: Americans United, Allies Deliver Briefing on Hobby Lobby Suit
"Should the Supreme Court rule in favor of Hobby Lobby, employers would be able to privilege their religious convictions over their employees' – something we consider to be an egregious distortion of the principle of religious liberty" — Litigation Counsel, Greg Lipper, Americans United for Separation of Church and State
A robust national debate has been going on leading up to the soon-to-be ruling from this session of the Supreme Court regarding the standing of a corporation's religious liberty, (in this case, Hobby Lobby) with respect to its employees' access to birth control has been mired in the plaintiff's misinformation and misdirection. This week, Lipper was joined by others, including  Sara Hutchinson of Catholics for Choice, Roy Speckhardt of the American Humanist Association, and Nancy Kaufmann of the National Council of Jewish Women,  tried their best to brief Congress on the potential consequences of a Hobby Lobby victory for real religious liberty, and lay the ground work for legislative rescue should this the court rule in favor of Hobby Lobby.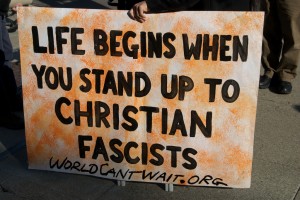 Since the court has previously ruled that corporations have "personal" rights, the fate of this case is worrisome.
Hutchinson said, "those consequences would be profoundly negative for most Americans," adding that organizations such as the U.S. Conference of Catholic Bishops do not represent popular support despite its claims to the contrary.
"We firmly believe that contraception coverage protects women."

"Catholics believe that women's conscience rights deserve respect."
Kaufmann reinforced the point.
"[A Hobby Lobby victory] would undermine a woman's religious liberty to make a faith-informed decision about birth control."

. . . [P]eople of color, who tend to be low-income as a result of racial inequalities, would be "disproportionately" affected by a ruling that limited contraception access.

"We hope the courts uphold the religious liberty of all people"
Speckhardt spoke up for the rights of non-theists.
"True religious liberty must include the option to be non-religious . . ."
"It must not be used by those abusing it for partisan agendas."

Religious minorities would be burdened by a Hobby Lobby victory, Speckhardt asserted, and he cited concerns that employers could deny access to other necessary medical procedures if religious exemptions to the Affordable Care Act are broadened.
The effort to define religious liberty is sure to continue no matter what the verdict, but activists in every other arena would do well to understand the importance of religious liberty for all as a pillar of civil rights because it affects everything.