I was so heartened to see yesterday's press release issued by Wayne Besen's Truth Wins Out (TWO) regarding the funding of TWO's new Center Against Religious Extremism (CARE, or TWOCARE).
"If you're like me, you are tired of American extremists literally getting away with murder from Uganda to Russia," said Truth Wins Out Executive Director Wayne Besen. "The Center Against Religious Extremism is designed to monitor, counter, and ultimately serve as a bulwark against an ignoble enterprise designed to drag the world back into the Dark Ages."
It would be a wonderful service to humankind if TWOCARE can disarm and dissolve organizations that are actively spreading hate, especially of women, and queer people. Most notable and deserving of such scrutiny, in my opinion, is The Family/Fellowship, a secretive organization of politicians, military officers, attorneys general, and business people operating within the borders of most countries.
Bless those who are helping fund this important research that will unveil to the world some of the most, if not the most, vile international conspiracies ever known, just as bad as any terrorist organization which happens to have unending billions of dollars at their disposal. Learn more about this work, and if you can, make a donation however small.
There is no hyperbole that could shock you more than the reality of these nefarious organizations, especially because if you went to the best Hollywood scriptwriters, you couldn't come up with a more devious plan to strangle the course of history. These groups are not trying to take us back to some archaic way of doing things that rejects modernity, but attempting to create a dystopian future devoid of personal choice and human happiness, based on the extreme rightwing agenda of a relative handful of old white men.
The Family has existed pretty much under the radar until the last 5 or 6 years, when it was skillfully unmasked by Jeff Sharlet's two books, The Family (2008) and C Street: The Fundamentalist Threat to American Democracy (2010). These two books comprise a case study in religious extremism, and what made global human rights and equality advocates start to take notice of The Family and related organizations. These two volumes are must-reads for anyone interested in this issue, although the more attention The Family received, the more scrubbed their website and public face became until every detail was secreted away.
Besides Sharlet's ground-breaking expose, organizations such as the Center for Responsible Ethics in Washington (CREW), have from time to time tried to expose The Family, famously by bringing ethics charges against certain members of US Congress, who, along with a few US governors, accepted unreported gifts from The Family/Fellowship by virtue of their low-cost residency in a well-known Capitol mansion known as the C Street House. This mansion is one of numerous properties owned and operated for the benefit of The Family's worldwide network of 10,000 cells operating more or less independently, but this one happens to also be infamous because a good portion of its recent residents have been caught and disgraced by sex scandals (Mark Sanders, John Ensign, etc.).
More than 50 years ago, The Family concluded that the model for spreading a worldwide christianized theocracy (a theocracy based on their all too human and profane imagination) was not progressing well or fast enough through traditional missionaries. Instead they embarked on a program to develop in-country missions by recruiting natives, business leaders and politicians such as Uganda's President Museveni (and his wife), and especially youth to be educated at The Family's expense and trained as its future organizational leaders to bring about the organization's megalomaniacal vision of world domination. Membership is open to christianists and non-christians alike, Muslims especially are shown a way to align with The Family, in a conspiracy to shackle the world's natural resources under the guise of "doing it for Jesus" but it's actually all about money.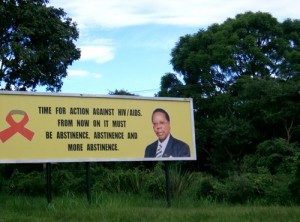 Make no mistake, except for paying lip service to Jesus, there is nothing whatsoever religious about this crusade because anyone can join, even if one's sole purpose is gaining access to the important business contacts and political leaders and the global natural resources they control. You can be a cynical, non-christian businessman and also a member of The Family for the sterling contacts alone, as long as you support The Family's agenda to rule the world based on their personal and distorted resurrection of christendom, often termed dominionism.
Wayne and I, along with Jeff Sharlet, have talked now for a number of years about getting big media to finally pay attention to The Family's secretive world wide movement and its singular goal to supplant established and nascent democracies with theocratic rule based on (their own version of) "God's Law." This new center, CARE, will no doubt help expose The Family and other organizations like it for what they actually are.
Right around the time Jeff Sharlet's first book was published, we executed several very visible protests. The first protest was about the annual National Prayer Breakfast, a function fully funded through The Family although presented to the world and foreign dignitaries as an official US government event, much to the chagrin of our own State Department. Although The Family has operated its international machinations under a shroud of secrecy, it has nonetheless made this Breakfast practically a national institution, on a scale that every sitting US President and a fair share of the US Congress attend every February — so why wouldn't foreign visitors think this is an officially sanctioned function. But it's not. It's a time and place each year when The Family comes together to celebrate, not prayer, but its broadening reach around the world.
Next, local DC activists staged a non-violent civil disobedience action on the C Street House's doorstop, protesting The Family's wholesale exporting of hatred of LGBT people in places such as Uganda. This relatively small protest received national attention, and shortly thereafter, The Family's website was scrubbed clean of any evidence of its deep tentacles wrapped around the US government and nations abroad. To this date, it is only Sharlet's two books that see into this organization.
I started researching and occasionally writing about this subject at the time, and in the process uncovered a congressional caucus called the Values Action Caucus. Here, members of both houses of congress convene at tax payers expense to set legislative goals. This Caucus' goals were to forward anti-abortion, personhood legislation and to work towards putting the Ten Commandments in every Federal building in America. By comparing membership in this organization and those reported by Jeff Sharlet to be members of The Family, I found a lot of overlap. This Caucus was, in effect, a government body being led by The Family right under our noses, and we were paying for it.
It's time for me to pick up my research and write more about this on VenusPlusX, so stay tuned. We now have this new Center for Against Religious Extremism to help focus our efforts in rooting out this theocratic conspiracy and ending its influence on world affairs once and for all. Please do your own research and help support this worth new endeavor.