Take Action On Wednesday for Net Neutrality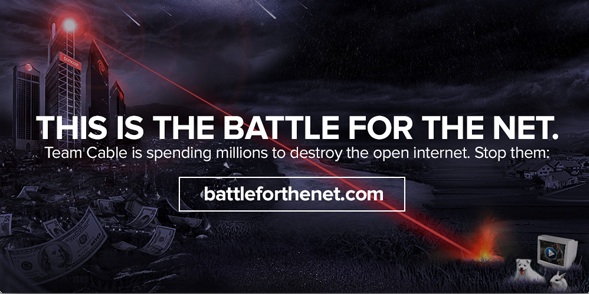 One of the most consequential decisions Washington is set to make in 2014 won't come out of the White House, Congress, or any of the nation's boardrooms, but rather from a nondescript federal building along the city's southwest waterfront. It's here, in the offices of the Federal Communications Commission, that the fate of the Internet will be decided. (via The Huffingnton Post)
A court ruling earlier this year throwing out earlier rules led the Federal Trade Commission (FCC) to vote 3-2 to debate the issue again, a time to put all the issues on the table but not without risk. If these new rules are approved, media mega-corporations such as Comcast and Verizon will be able to offer fast lanes to certain clients, such as Netflix, all at the consumer's expense of course. This would leave smaller companies, the non-profit sector, and individuals stuck in slow lanes, withering.
Defenders of net neutrality want the Internet to remain the free international marketplace of ideas it is, where everyone has the same opportunity to be heard. Many of us  flooded the FCC with hundreds of thousands of messages during the public comment period on these draft rules. More background: here, here, and here.
Now, frighteningly, this epic decision is now in the hands of two FCC commissioners, both women, both Democrats, but our fate is still very much in doubt. Chair Tom Wheeler has come out in favor of net neutrality although the fact that he has entertained this draft proposal is somehow at odds with that position. The Republicans, both men, on the commission are going to vote with the mega-corporations, of course.
A day of action for this Wednesday, September 10, is planned and everyone can take part. At battleforthenet.com you can find out how you can participate directly in this Internet Slowdown campaign. The site is the product of several well-respected net neutrality advocacy organizations.
All day on Wednesday, websites big and small will display the notorious symbol of dysfunction, the dreaded spinning wheel of death, to promote users to content the FCC, Congress, and the White House. (This will be a display, only, not actually affecting any website.)
Over 100 tech companies, including Google and Amazon, came together last spring to oppose these proposed new rules . . . warn[ing] of a "grave threat to the Internet." Most of these companies have pledged to participate on Wednesday, and hopefully they will.
Whether you a small website or a big Internet company, or if you just have a blog, you can get the code. If you have a mobile app, send a push notification. On social media, change your avatar to a spinning wheel of death, or freely share some of battleforthenet.com's cool images.
All the tools to do this are at battleforthenet.com, including a Citizen's Petition and software to make a banner. It's all about prompting as many people as possible to flood political decision-makers to fight off yet another assault by big business.
Even if you only have a Facebook account you can participate. If you have clout, use it! By working together in coalition we can succeed, and help end the domination of corporations over people.
#####