Voluntary sex work is destined to evolve into a legitimate Sexual Healing Industry
Jamie Raskin, law professor and Maryland State Senator, is trying in vain to explain to the luddites in Congress why free speech shouldn't cover things like bribery to politicians, recently okayed by the US Supreme Court in several rulings. He wisely invokes prostitution to get their attention, to show the context of free speech, but it's just used as a expositional device.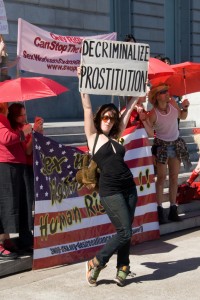 But let's take his point in another direction. The legalization or decriminalization of prostitution is a campaign VenusPlusX and other civil rights organizations have long-championed because it is a necessary and often vital part of life and there are many reasons why it hasn't gone away on its own, it will not go away, and it's ready for real reform so that it constitutionality can be protected as vigorously as any other human right.
The desire for love, for touch, for compassion, and for companionship and the improvement of physical health doesn't have and shouldn't have any boundaries or interference by governments or religions because our erotic senses are foundational to our connection with others and the cosmic technology around us.
Crime, sex trafficking, and financial exploitation accompany sex work only because it has always been criminalized.
If money paid to a sex worker (or a casual dinner and a movie with a new boyfriend) leads to sexual activity, why should this warrant any interference at all. The dinners, movies, jewelry, etc., accepted by girlfriends and wives is the very same thing as the commercial transaction made by a sex worker.
So, let's consider a new model: A Sexual Healing Industry.
Note that this industry and network of professionals already exists. Highly skilled masseurs have become well known by word of mouth, as empaths who can safely shepherd you towards greater understanding of yourself and your body. They see you in well suited surroundings although right now they don't explicitly advertise themselves as sexual healers. Why shouldn't every sex worker who is involved in commercializing their skill on a voluntary basis be able to put out a shingle in a safe environment?
"Oh, by the way, I am going out to my yoga class and I have an appointment with my sexual healer after that so I'll see you for dinner around 6." Why not? This is the future, get ready for it.
Let us know what you think by commenting here or contact us at columbia@venusplusx.org.