Eric Holder explains it all, now it's your turn
Holder confronts racial issues in address as White House puts discrimination at the fore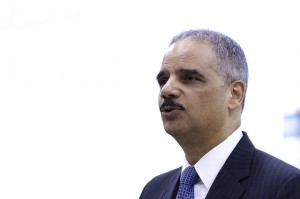 Attorney General Eric Holder has withstood savage attacks from his detractors but he has hung on and has emerged as our explainer-in-chief when it comes to racism in this country, really racism everywhere. His recent commencement address at Morgan State University was his most bold and erudite attempt to educate the world, particularly America, on the insidious and subtle nature of racism.
Holder rightly points out that the recent high-profile episodes of racism often mask systematic prejudice and discrimination.
"These [recent] outbursts of bigotry, while deplorable, are not the true markers of the struggle that still must be waged, or the work that still needs to be done," Holder said.

"The greatest threats," he continued, "are more subtle. They cut deeper. And their terrible impact endures long after the headlines have faded and obvious, ignorant expressions of hatred have been marginalized."
In 2009, during Black History Month, Holder began this dialog by calling us "a nation of cowards" without the stomach for an actual conversation about racism. Gradually, with loving care, he (and President Obama) have led us through an increasingly more overt and candid discussion about race, the substance of which will live on as guide to all of us who have the courage to listen, take to heart, and put into action, much like the lessons of Martin Luther King, Jr.
So the next time that the likes of Bundy or Sterling take over the news cycle, it is up to all of us to draw the distinction Holder illustrates to begin a conversation with someone, anyone, about the deep roots of racism that still have stranglehold over our society, and what we can do together to overcome.